Happy Foundation Friday!
I've talked a lot about blocking in knitting. It seems easy enough but sometimes requires just a little extra! The extras can be:
the liquid used to saturate knitting before blocking
the time an item soaks
the temperature knitting soaks at
what at item is blocked with
what an item is blocked into
Seems like a lot when you quickly think that blocking is no more than a soak in water, patting into shape and allowing to dry, eh?
My favorite liquid in which to relax knittery before blocking is by Soak in the Fig fragrance. Sooooo yummy!
There are indeed other brands of washing liquid for completed knits. Like Eucalan, I like it too!
While the product is important (look for no rinse agents– even though you likely will rinse you want to know that nothing harmful will remain in your finished knit to attract dirt, look dingy or cause a problem) the thing of greatest urgency is HOW you presoak/rinse!
Fill a basin (or clean sink) with just warm water and add the soaking product according to the label directions, it usually requires very little! Drop in your item and very gently sink it/smoosh it so that it becomes wet. Evenly wet. DO NOT AGITATE!!! Agitation can cause felting in woolens and even pilling in acrylics. You want your knit to be completely and totally wet and this might take an hour or so. Make sure your basin is large enough to handle the item for even wetting and that you have enough product incorporated into the volume of water needed. For example, a large afghan might best soak in a bathtub with a couple inches of water, adjusting the amount of product needed.  When you've adequately soaked/wetted/relaxed your finished knit, drain the water and allow the item to drain a minute, compressing uber gently. Then into a white fluffy towel (or two) lay the item and very very gently roll the towel and squish it to remove water. Add a dry towel or two and repeat the process until the knit is damp and smiling. Then to the blocking process you go!
Blocking can be as gentle as a pat pat and fluff fluff. It depends on the item. An acrylic sweater might require very little as opposed to a wool sweater or something with edges that want to curl, in a size that isn't perfectly as prescribed in your pattern or if the fiber used is fussy. The most important thing is to block to size. Use a tape measure that is easily readable and your set of finished measurements/schematic. Measure each component called for and pin into a thick towel or a pinnable foam type surface.
Speaking of surfaces, I personally like to be able to pin into something to block. For me, it gives the best results in the fastest time.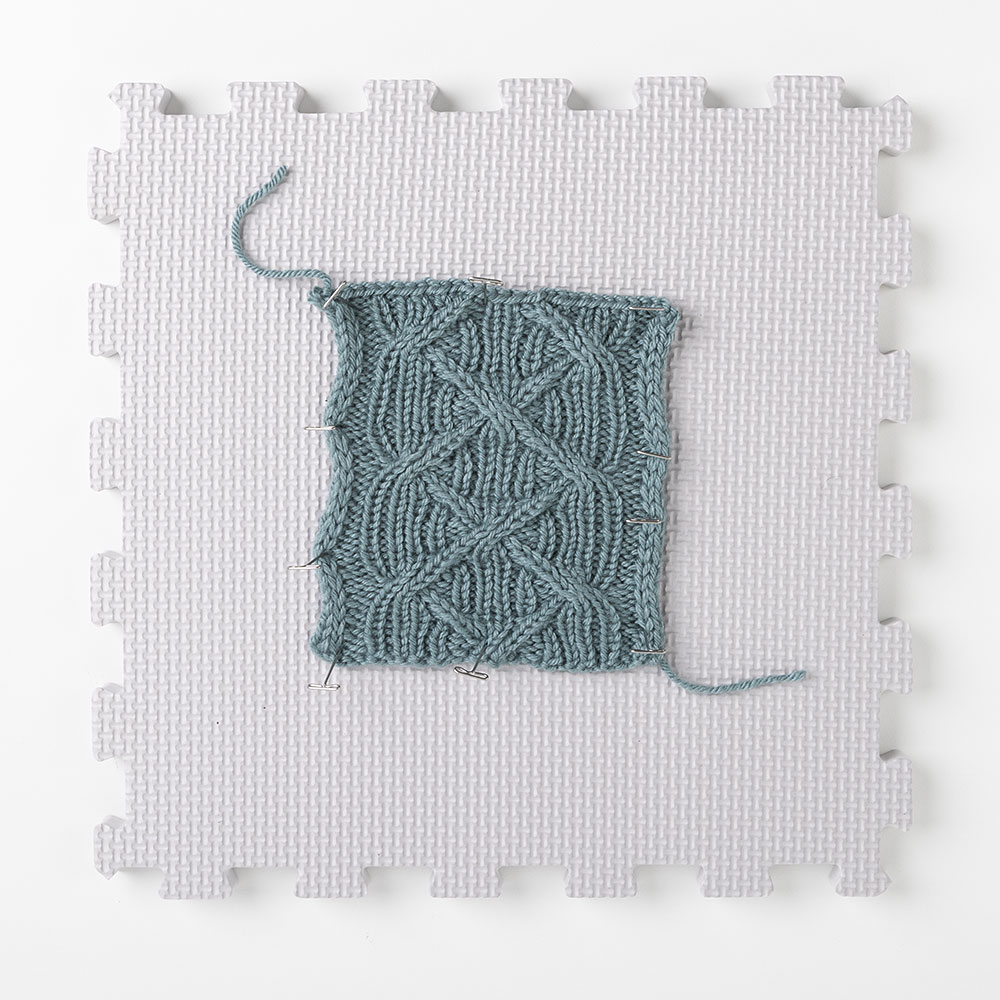 I like the foam mats from Knit Picks. They're reasonable and break apart for easy storage. You set up as many locking pieces as you need and can pin into it over and over and over again. Having said that, there have been many times I'll use a clean fluffy towel if my item just needs a pat and a promise!!
Socks love to be blocked on a sock blocker– again, you can lay them out on a surface and push and pat if     they're simple. A lacier sock or a sock that has a distinct pattern will benefit from a little loving care!
I love the stainless steel sock blockers from Bryspun! There study yet lightweight, socks dry quickly AND you can hang them to catch a breeze!
Another blocking essential especially if you're a lace knitter are blocking wires! They're long flexible wires that when woven through the edge of a product and pinned into a mat make sizing easy and showing off a beautiful pattern or open weave a snap. The ones from Lazadas at Noble Knits are excellent!
Waiting until an item is blocked and dry is a very hard thing to do! Don't be tempted to remove your knits from their pins or wires until they're completely and totally dry!!!! Patience is a knitterly virtue after all!
I'm finishing with a foundation we never do enough for ourselves….. I'm braggin'!!!
  I've refined and tweaked, messed and fiddled and think that I have the Perfect Biscuit recipe!!! Per.Fect. The color is great without butter or an egg wash (but both really make it pop if you've a mind to), you can split a biscuit with your fingers and not use a knife, there are perfect layers, it doesn't break apart and the flavor and texture are fabulous. I told you….. PERFECT!!!
The weekend's coming, are there biscuits in your future? There just might be in mine!!